Current Members
Scientists and Faculty: Ryan Mitchell and Matthew Shepherd. We also closely collaborate with Prof. Adam Szczepaniak and the Joint Physics Analysis Center.
Postdoctoral Researchers: Colin Gleason, Aiqiang Guo, Jingyi Zhao (visiting)
Graduate Students: Will Imoehl, Joshua Jackson, Rebecca Barsotti, Sangsik Yoon, Kevin Saldana
Alumni
Below is a partial list of former group members and their last known whereabouts. (If you are a former group member and find this incomplete or incorrect, send an email to Matt with your updated coordinates.)
Former Postdoctoral Research Associates
Zhentian Sun (2014-2018) is now a postdoctoral researcher at the Institute for High Energy Physics in Beijing
Adesh Subedi (2014-2017) is now an applied scientist for Amazon
Kei Moriya (2010-2014) is now working as an analyst for the International Monetary Fund.
John Leckey (2011-2014) is now a Physicist at NASA.
Claire Tarbert (2008-2010) is now the Principal Clinical Scientist at the Medical Devices Unit, NHS in Glasgow, UK.
Mihajlo Kornicer (2006-2011) is now a research associate at the University of Hawaii.
Former Graduate and Undergraduate Students
Jon Zarling (Ph.D., 2019) is a postdoctoral researcher at the University of Regina.
Daniel Bennet (Ph.D., 2017) is working for a technology startup in Indiana.
Manuel Lara (Ph.D., 2016) is now a Data Scientist for Lessons.com.
Thomas Boettcher (B.S., 2015) is pursuing a Ph.D. in Physics at MIT.
Jake Bennett (Ph.D., 2014) is now an Assistant Professor at University of Mississippi.
Kevin Bauer (B.S., 2014) is pursuing a Ph.D. in Physics at the University of California Irvine.
Scott Henderson (B.S., 2013) is now a scientist for the Navy at the Crane Naval Station.
Brad Schaefer (Ph.D., 2012) is now a Technology Lead with CloseSimple.
Alex Grannan (B.S., 2011) is now Postdoctoral Appointee for Research on HPC Scientific Software at Argonne National Laboratory.
Tyler Smith (B.S., 2010) is received his M.S. in Economics and is now an Economics Writer at the American Economic Association.
Samuel Adams (B.S., 2010) received a M.S. in Medical Physics from the University of Wisconsin in 2012 and now works for Epic.
Chris Cude-Woods (B.S.) is now pursuing a Ph.D. in Physics at North Carolina State University.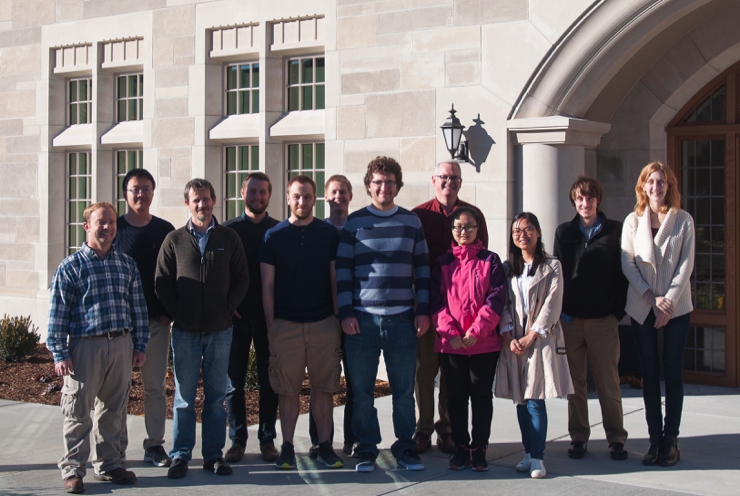 A photo from Fall 2018 in front of Swain Hall West. Left to right: John Frye (Engineer), Aiqiang Guo (Postdoc), Ryan Mitchell (Senior Scientist), Colin Gleason (Postdoc), Will Imoehl (Graduate Student), Jon Zarling (Graduate Student), Jared Foote (Graduate Student), Matthew Shepherd (Professor), Jingyi Zhao (Visiting Postdoc), Peilian Li (Visiting Graduate Student), Joshua Jackson (Graduate Student), Rebecca Barsotti (Graduate Student).